Trout's Appliances: Your November 2020 LakeLeader of the Month!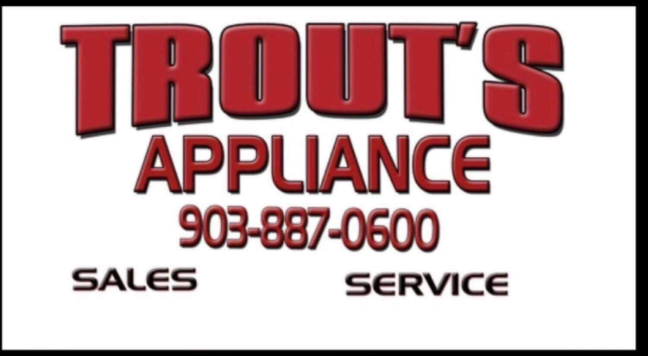 There aren't many family owned, independent businesses around Cedar Creek lake such as Trout's Appliance that can say they've been around before there was a Cedar Creek Lake!
The Trout's Appliance story begins in Kemp, Texas all the way back to 1957. In recognizing this legendary community oriented family and the local spirit behind their business accomplishments, we wanted to capture the history and current business background from owner Johnny Trout directly as he brings us up to date on the remarkable achievements of this independent customer service and sales business serving the Cedar Creek Lake area.
CedarCreekLake.Online: How did Trout Appliances get its original start?
Johnny Trout: In 1957 my grandparents, Bruce and Martha Scott, opened a TV and appliance business in downtown Kemp, TX with the original name of Scott TV and Appliance. The two of them would do the sales, service, and deliveries. After my father got out of the service and married my mother he was brought into the family business and eventually purchased it renaming it Scott and Trout TV and Appliance.
CedarCreekLake.Online: What were some of the early business milestones?
Johnny Trout: Their earliest milestone was only to provide for the family, at that time we were lucky to sale 1 to 2 products a week. Little did we know that the personal relationships we were building over the years would help to grow what is now a thriving family business.
CedarCreekLake.Online: Is the current location the original store front?
Johnny Trout: The original store front was in Kemp, TX which opened in 1957. In 1976 my father, Dan Trout, wanted to grow the business and moved it to Gun Barrel City where he hoped a population growth would help with succeeding in business. We are one if not the only original businesses from that time still in existence.
CedarCreekLake.Online: What service area does Trout Appliance cover
Johnny Trout: We cover the cedar creek lake and surrounding areas. We have many customers that the lake area is their second home. It is often after they have experienced our services they'll use us to provide for their primary residence most often in the DFW area.
CedarCreekLake.Online: What kind of training, certification and experience do Trout Appliance installers and repairmen have on the products sold?
Johnny Trout: I could bore you with all the certifications but what really sets us apart form other companies is that we actually care about the customer. Small businesses don't usually get a second chance to get it right. We have been complimented numerous times on our knowledgeable and friendly sales staff. Our delivery team is the most professional we have ever had, going above and beyond to please our customers. We strive to make sure they are fully satisfied so that we can count on them to be repeat business and refer us to friends and family. Lastly, our service technicians are hands down the most qualified and experienced around.
Our manufacturers hold sales and service trainings quarterly to keep us up to date with product knowledge technical support.
CedarCreekLake.Online: Does Trout Appliance offer repair service on other brands? If so, can you please name a few?
Johnny Trout: Trout Appliance services most all brands. With that being said, we make sure the customers who have purchased from us are always taken care of first.
CedarCreekLake.Online: Does Trout Appliance stock spare parts? And can customers buy parts themselves?
Johnny Trout: Trout Appliance carries a wide variety of parts for all different brands and models of appliances for our service teams and in store purchasing.
CedarCreekLake.Online: Does Trout Appliance Deliver? What about removal of discarded appliances?
Johnny Trout: Trout Appliance has free local delivery and installation on most products. We offer free haul away of the existing appliance.
CedarCreekLake.Online: How many employees does Trout Appliance have?
Johnny Trout; While most of us are family we have a team of nine employees at this time.
CedarCreekLake.Online: What does the future hold for Trout Appliance?
Johnny Trout: The future for Trout's Appliance is to continue to grow a reputable business by serving our community and our customers. We have upcoming plans to add more service technicians and to bring in more products including a luxury line of appliances all of which are or will be on display on our showroom floor.
CedarCreekLake.Online: Stop by in person and be greeted by one of Johnny's expert sales people for a live tour at their Gun Barrel City Show Room located at 834 West Main Street. Phone 903-887-0600. www.troutsappliance.com.