'Stump & Grind' to our June 2021 LakeLeader Summerhill's Services
Our June 2021 LakeLeader of the Month is Summerhill's Services, a full-service residential and commercial outdoor services firm owned by Kyle Summerhill.
With their considerable AAA reputation around Cedar Creek Lake known for their highly successful Stump Grinding service, Kyle Summerhill's offerings also include a large landscaping business that provides tree trimming & removal, lawn maintenance and power washing services.
Kyle points out that, "Stump grinding in particular, can be dangerous work for someone not properly trained or working with the right kind of equipment. Wearing safety clothing is also mandatory for protection." Kyle also adds that proper training in how to use the equipment is also required plus there's no substitute for experience if you're going to get the job done right.
Speaking of experience, I asked Kyle how long he's been doing stump grinding. He said he first began working on stump removal projects over 20 years ago. He learned a lot about the process through on-the-job training. And, today he uses a powerful Vermeer SC 362 Heavy Machine Stump Grinder that enables him to tackle even the toughest East Texas Cedar Creek jobs quickly and efficiently!
A look at the Process of Professional Tree Stump Grinding
Have an appointment to grind down a pesky tree stump? Or maybe you're just curious about the process. No matter the case, here's an in-depth guide from Kyle Summerhill about stump grinding and how it works.
WHAT IS STUMP GRINDING? (Kyle Summerhill suggests 'don't try this at home; best to leave this to a pro!')
Stump grinding turns a tree stump into fresh mulch, using a machine known as a stump grinder. Stump grinders vary in size, with small grinders often running on gas and large ones running on diesel fuel.
Stump grinders cut into tree stumps using wheels with special carbide cutting tips. And larger grinders use wheels with upwards of 76 carbide cutters to cut into massive tree stumps.
WHAT ARE THE BENEFITS?
Kyle explains, Stump grinding provides several benefits, such as preventing an unwanted tree from growing back.
Stump grinding improves the appearance of your landscape. It also frees up space in your yard for landscaping, patios, and outdoor furniture that would otherwise be unusable with a stump in the way.
Along with freeing up yard space, stump grinding improves the safety of your yard. Tree stumps are tripping hazards and lawnmower hazards. So if you want a safe yard for kids to play in, for you to walk around in without stubbing your toe, and to mow your lawn without having to maneuver around a stump, it's worth grinding down that tree stump.
Lastly, old rotting tree stumps attract mold, fungi, and pests, which can all spread to the rest of your landscape and potentially kill other plant life.
WHAT ARE THE SAFETY PRECAUTIONS & CONCERNS?
Kyle emphasizes that stump grinding is a dangerous job. Along with the risk of flying rocks and debris when stump grinding, the carbide cutting tips pose a serious threat. Since these wheels are powerful enough to cut into thick, solid tree stumps, they can essentially cut into anything.
So the most important safety rules of stump grinding are to wear protective gear, remove rocks and debris around the stump before starting the machine, and stay away from the base and wheel of the grinder when the stump grinder is on.
THE PROCESS
Tree professionals use the following process for safe and efficient stump grinding.
Inspect the Area
First, they inspect the area to make sure it's safe to work—e.g. there is solid footing for the stump grinder and operator and no safety hazards around the work area.
The operator, Kyle explains, will take note of property, twigs, rocks, and debris that needs to be cleared from the area first before they can start working.
Safety First
Since stump grinders can be extremely dangerous, safety gear must be worn at all times while stump grinding. This gear includes goggles, gloves, chainsaw safety pants, and sturdy work boots.
Before grinding, Kyle will clear the area of anything lying around, such as tools, toys, and yard decorations. They may also trim grass and plants around the stump to help improve visibility.
Shovel to Remove Rock & Plants around the Base of the Stump
Kyle will will remove rocks and sticks from around the base of the stump using a shovel. If there are any rocks or sticks in the way, he will dull the wheel teeth on the stump grinder, damage the machine, or risk flying up and hurting the operator.
Also, to help improve visibility, Kyle may trim the grass and remove any plants around the stump.
Use a Chainsaw to Trim the Stump Close to the Ground & Speed up the Process
Next, Kyle will use a chainsaw to cut down the stump as low as possible to reduce the amount of stump grinding needed. Trimming the stump reduces the amount of work for the stump grinder, speeds up the stump removal process, and makes the job much easier.
Use a Stump Grinder
Once it's time to use the stump grinder, the tree removal pro will bring the stump grinder to the stump, raise the grinder wheel a few inches above the stump, go to the edge of the stump, lower the wheel blade, and start cutting into the stump on a low setting.
Kyle will move the wheel cutter side to side and back and forth to cut into the wood. And he will reposition the wheel to grind through the next section of the stump.
Continue Using Stump Grinder until at Least 4 Inches below Ground
Kyle will repeat the above stump grinding technique until he has ground the stump down 4 to 16 inches below the surface of the ground, and he has cut away the entire stump and roots.
After Kyle has turned off the stump grinder and moved it away from the stump area, he will inspect the area to make sure the stump is completely removed.
Clean Up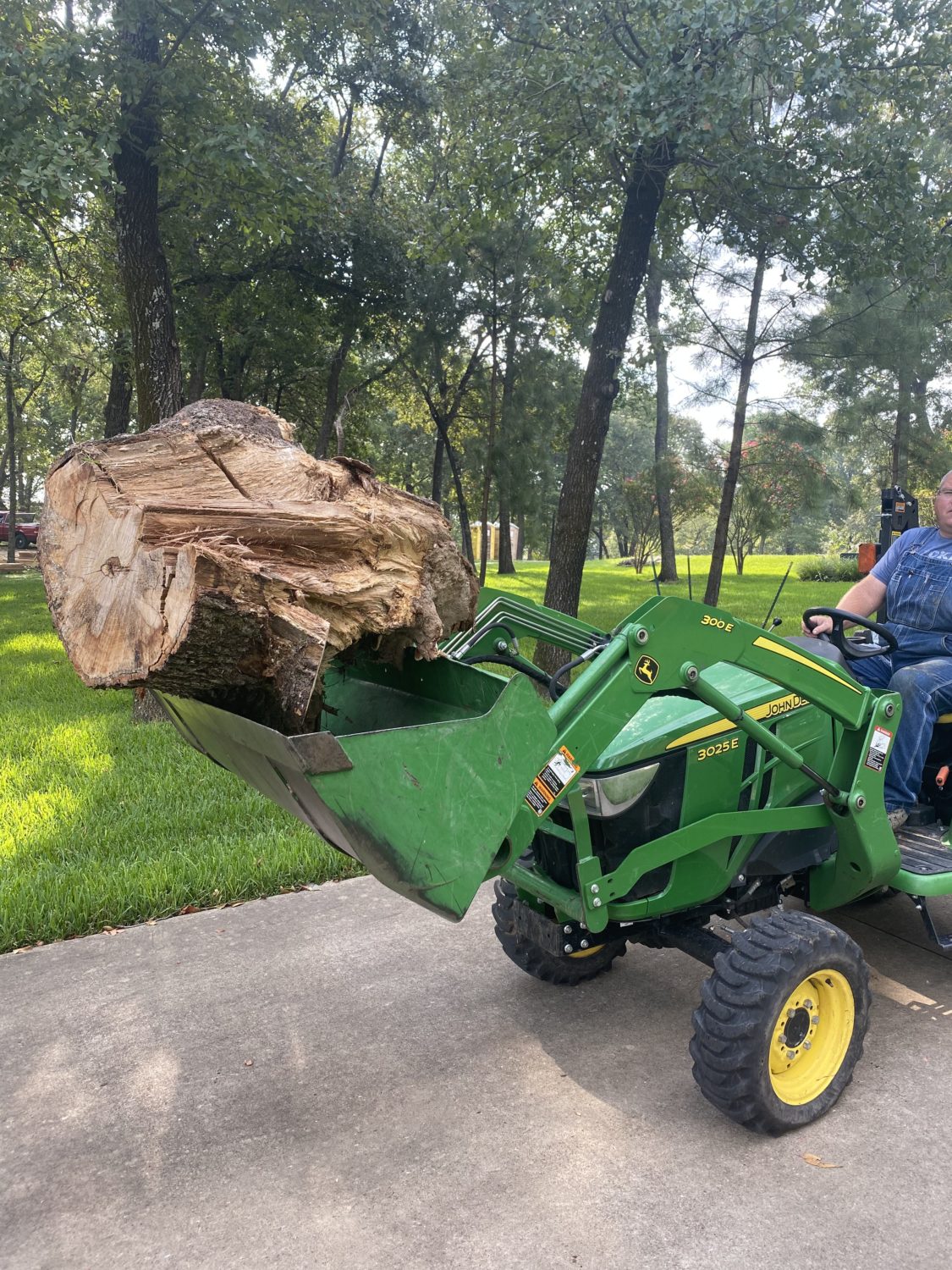 Once the stump grinding is complete, Kyle cleans up the area. He will shovel and rake up extra wood chips that can be used as mulch. And he will push the earth and remaining wood chips back into the hole left by the tree stump.
Fill with Soil
Next, he will fill the area with soil, tamp it down, and lightly rake for an even surface.
Plant Seeds
If you want to grow grass on the tree stump area, you can spread grass seeds over the soil and water the seeds and soil to restore your lawn. Or, you can plant vegetable or flower seeds, or cover the soil with mulch until you're ready to plant seedlings and flowers.
WHY YOU SHOULD HIRE A PROFESSIONAL
Stump grinding machines are very dangerous. Only those with experience using a stump grinder should take on this work. So unless you have experience with stump grinding, you should leave this work to the pros for your own safety and the safety of your lawn.
Stump grinding pros have the training, experience, and safety gear to perform this work safely and efficiently. They also use safeguards to protect your lawn from damage and prevent safety hazards, such as flying rocks.
With these steps, an unsightly tree stump can be removed from your yard for good. Stump grinding can restore the space, beauty, and function of your landscape while improving its safety and making lawn-mowing a breeze.
WHY YOU SHOULD HIRE SUMMERHILL'S SERVICES
With over two decades of service to lake area residential and commercial customers, Kyle Summerhill stands behind all of their expert services. From Stump Grinding to Lawn Care, to Tree Removal and Power Washing Services, Summerhill's has the expertise, equipment, people and reputation for getting the job done right the first time at a competitive price for hundreds of satisfied customers. Call our June 2021 LakeLeader, Summerhill's Services at (903) 432-3077 or check them out online at https://cedarcreeklake.online/listing/stump-grinding/cedar-creek-lake/summerhills-services/