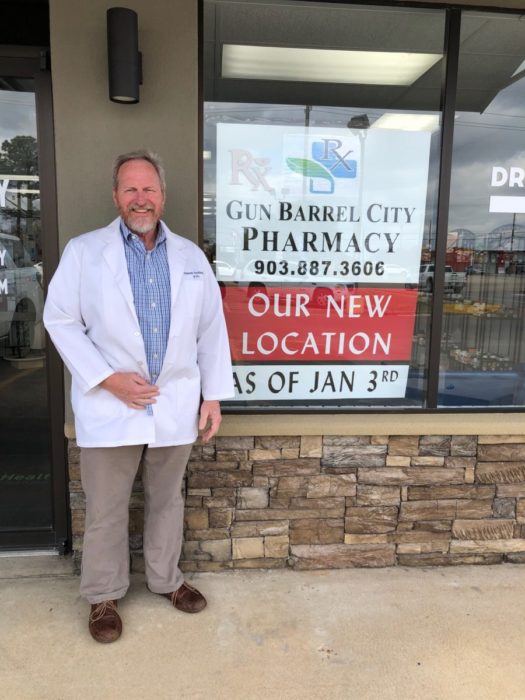 Gun Barrel City Pharmacy-Cedar Creek Lake LakeLeader for March 2022
The Pharmacy business has seen quite a number of changes over the past decade; especially the last two years, since the onset of Covid-19. The demands placed on pharmacists, store personnel and the drug industry in general have been unprecedented. This month's LakeLeader for March 2022 is a Gun Barrel City legacy business who, in January 2022 moved from their 50 year old original location at 300 North Gun Barrel Lane to their new retail location; the Gun Barrel City Pharmacy now located at 133 West Main Street; Gun Barrel City, Texas 75156.
With a 1983 Pharmacy Degree from Northwest Louisiana University, Owner Robert Emfinger along with his wife Rita bought the Gun Barrel City Pharmacy from its original owner who started the business in the early 1970's. Since his early childhood, Robert had always had an entrepreneur's mindset. Whether it was cutting grass for nearby neighbors or doing odd jobs, he definitely wanted to be self-employed. So it was only natural that, after graduating from college, rather than working for a large chain pharmacy he preferred owning his own store. Eventually that actually happened in 1992. Today, the husband and wife team built up a professional pharmacy staff of seven with a solid reputation for personalized, family friendly customer service.
I sat down with Robert and here's what he had to say about the Gun Barrel City Pharmacy, their recent move and some of the current things happening in the pharmacy business.
CCL.O
Hi Robert, Looks like you've gotten moved in to the new space and everything is up and running after 50 years at the old Gun Barrel City Pharmacy location. Congratulations!
Robert
Yes, thanks, Eric! The team worked extra hard to minimize disruption for our customers and today we're able to deliver better services than ever before! Customers especially appreciate the new Drive Thru Window; not having to get out of their vehicle to pick up their medications or supplies.
CCL.O
That's great news! I know Rita works along with you at GBC Pharmacy. It sounds like you have a real "Family Business" here! Do you think that carries over into the way you deliver service to your customers?
Robert
I sure do, Eric. In fact, that's one of the main reasons we are an independent business. We are a community pharmacy who knows our customers on a personal level. We know how the Lake Area baseball teams are doing; who's having a birthday next week; when the baby is due; and who needs an extra shoulder to lean on when in a time of need.
If someone has a concern or needs help with a medication issue, the pharmacy chain of command begins and ends with me. And since 1992, Rita and I have consistently delivered a high standard of community care to our GBC customers.
CCL.O
That says a lot. I would suppose GBC Pharmacy could offer some other services that aren't available at chain pharmacies also, right?
Robert
Yes we do.  For example, we are a compounding pharmacy which means me and Ashley Sexton, my Associate Pharmacist, can make some customized medications for you, a family member, or even your pet to treat a variety of conditions. Some people and animals need medications that aren't commercially available. That is, medications that are not mass-produced and available at a large, chain pharmacy. These can include hormone replacement therapy and anti-nausea gels for example.
We also offer a wide array of immunizations, many of which also are not otherwise available at the large chain pharmacies.
And, if you can't come to us, we also offer free delivery within a 5 mile radius of our GBC Pharmacy location. We'll drive further for a small surcharge.
And, we offer customers our popular Aggressive Price Discount Program so we are cost competitive with all the big chain pharmacies. So you don't have to fiddle around with those plastic cards in your wallet with prices that are always changing from one day to the next.
CCL.O
That sounds great! I'm sure that explains what has kept all of your loyal customers over the past 30 years! So, you've probably seen a lot of changes since taking over GBC Pharmacy in 1992. What would you say are the biggest changes in the past 10 years?
Robert
Well, besides, Covid-19 in the last two years, I would say the pace of industry regulations and health insurance company compliance. It has become increasingly more difficult, as an independent pharmacy, to run the management of a pharmacy from the regulatory standpoint. And keeping up with the insurance policies and procedures can sometimes be a nightmare. There is so much red tape it is nearly impossible to manage. That's where Rita has become an invaluable partner by my side in helping to care for the business of GBC Pharmacy. Like I said before, we are a community based, family business and are invested in the GBC social fabric, so we care about our customers and they know and appreciate that. We treat our customers like we would a family member.
One thought about Covid-19 is pharmacy workers should get a lot of the credit for standing up in the face of adversity as customers and actual patients interacted with in-store staff for prescription fills and refills, vaccinations and boosters. The whole Covid-19 experience has changed the way we think about immunizations today versus in the past when we would typically only visit our Doctor for the shot. Today, many times, the Pharmacy is the First Line of Care for most typical immunizations.
CCL.O
Well, I'm sure the customers and GBC citizens all appreciate the legacy of support GBC Pharmacy has made and continues to make to the lake area. Thanks for all you do and congratulations on the LakeLeader status and the new location.
To learn more about Gun Barrel City Pharmacy give Robert or a staff member a call or stop by today!
Gun Barrel City Pharmacy
133 West Main Street; Gun Barrel City, Texas 75156.