Gun Barrel City Fire Station 2 Q&A with Mike Bradley Public Affairs Officer
by Eric Gore-Publisher Cedar Creek Lake Online
As many Cedar Creek Lake Online readers know, the Gun Barrel City Fire Department had its successful Fire Station #2 Grand Opening/Ribbon Cutting ceremony on Saturday January 12, 2019 at 330 Legendary Lane.  The event was well attended by city officials, citizens and neighbors from nearby communities.  Gun Barrel City Fire Chief Joseph Lindaman was there along with Henderson County Precinct 2 Commissioner Scott Tulley and City Councilman Ron Wyrick I wanted to take this opportunity to follow up with Mike Bradley, GBC Fire Department Public Affairs Officer with several follow-up questions to understand where the GBC FD Station #2 stands currently and get his view for the near-term on where they are headed for the future.  Here's what he had to say during our interview.
Eric:
  Hi, Mike.  Congrats on the excellent turn-out for the big Ribbon Cutting event.  Great to see all the moms, dads and kids enjoying the Fire Trucks, hot dogs and meeting the First Responders in person.  The GBC team does so much to protect our community so it's also good that they get the recognition they so much deserve!
Mike: 
You bet, Eric.  We also want to thank all of the local sponsors who donated the marvelous prizes for our Raffle give-away contest!  All-in-all, this was a win/win for the city, fire department and most importantly the community!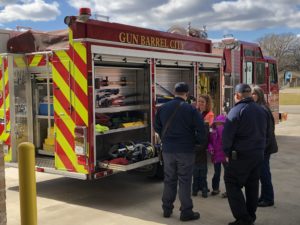 Eric:
So Mike, tell me a bit abut Station #2.  Specifically, how many Fire Trucks will be stationed, how many First Responders will work from here and will the station be manned full time?
Mike:
We currently have three emergency service trucks based out of GBC Fire Station #2.  The station is currently unmanned but fire fighters will respond from home or work depending on the time of day.  The Fire Chief will review staffing over time as the city continues to grow and the need for fire protection increases.  Currently only the Central Fire Station on Municipal Drive is manned
Eric:
  Ok but it sounds like GBC officials have a good hand on things and will continue to monitor city fire and emergency service needs going forward.   What will be the typical service coverage area?  What kind of emergencies will be covered and what kind of First Responder personnel will operate from this station?
Mike:
  GBC Station #2 equipment responds to emergency calls in GBC and, as needed in surrounding cities.  All types of emergencies are handled from our equipment.  Engine 52 is equipped with rescue gear.  Brush #1 handles wildland fires and our Tanker carries 3,000 gallons of water for fires where hydrants are not close by.   Regarding your question about First Responders, the GBC Fire Department is a 'Combination Department' made up of four full-time personnel and 14 volunteers.  The volunteer firefighters are trained in firefighting and rescue.  The volunteers attend training meetings twice per month to keep their skills sharp!
Eric:
  Wow; a big shout-out to those volunteers!  That's impressive and they should be recognized for their service!   Are there any openings now or in the future for paid and/or volunteer positions and what are the qualifications?  And will Station #2 be hosting any special events during 2019?
Mike:
  Yes; we are looking for more volunteers now!  You'd be surprised at the kind of ways anybody can serve on their local GBC Fire Department! Citizens interested in joining the fire department can obtain an application at City Hall. And, regarding future events, yes, we are working on several opportunities and will have an announcement this spring. We want to continue to have events like the ribbon cutting earlier in January that allow the citizens to come out to Station #2 and get to know the fire department and our First Responders who give so generously of their time and talents.
Eric:
  Well thanks, once again, Mike for your time and best wishes for the new year and our brave First Responders as they prepare for their new future here at the new GBC Fire Station #2!