Chainsaw Artist Chad Kilpatrick to perform live carving and Prize Give Away June 8 Cedar Creek Expo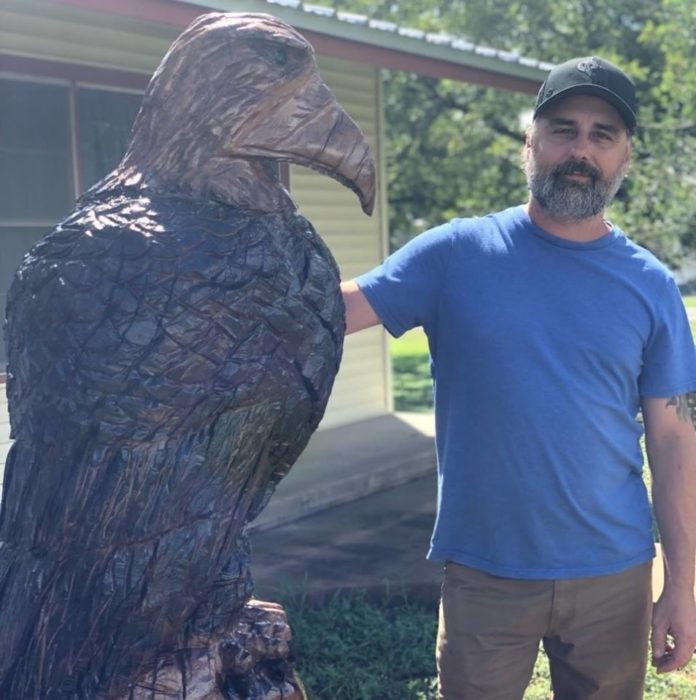 Wills Point-based, professional chainsaw artist Chad Kilpatrick will be doing a live wood carving during the Cedar Creek Summer Lake Living Expo June 8 at the E-VENT Center in Seven Points, Texas.  While much of his work will be on display and for sale to the public, Chad will be donating his June 8th carving for one of the two Expo Prize give-a-ways to be handed out during the one-day event.
During his presentation, Chad will describe the tools and techniques he employs to design and create his master art carving projects.  He will also discuss custom project assignments he takes on and how he works with clients to come up with the right creative results based on their commission preferences.  Chad says that no two projects are ever alike and he enjoys creating new and different designs for each customer as that's what makes each piece truly unique and stands out in the eyes of his customers!
Using only wood culled locally, Chad works diligently to support his artisan community through these and several other efforts. Chad is highly sought after for festivals throughout East Texas, the Texas Hill Country and out of state venues.
About the Cedar Creek Summer Lake Living Expo June 8
The Cedar Creek Summer Lake Living Expo is hosted by E-VENT Center of Cedar Creek and CedarCreekLake.ONLINE.  The Cedar Creek Summer Lake Living Expo is an indoor event to showcase lake area home and dock builders, realtors, landscapers, maintenance and service providers, retailers, professional advisors and other local businesses in the surrounding community.  The event features nationally recognized performers and highly acclaimed experts in professional fields related to improving the quality of lake-life for Cedar Creek citizens.  The full-day's schedule will be hosted by Cedar Creek favorite MC, Mr. Scott Tuley.  The E-VENT Center is located at 101 Pritchett Lane & East Cedar Creek Parkway; Seven Points, Texas 75143 (behind Catfish Corner)
Check back regularly as we get closer to the expo date for exact schedule details.
www.cedarcreeklake.online